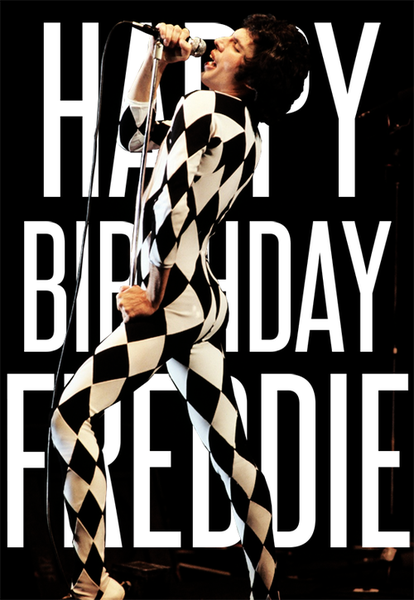 5 September: This weekend marks what would have been the Queen frontman's 69th birthday and despite his tragic death 24 years ago, it remains clear that his legacy still lives on. Mercury had a career with Queen that cemented his status as an iconic frontman who is still considered to have been one of the best. In his lifetime the musician had a revered, original and flamboyant stage presence that has gone on to influence many others who take to the stage.
The charisma and power in his performance style has over the years led to many artists quoting him as one of their biggest inspirations today. From rock icons like Bowie and Kurt Cobain, to pop stars Lady Gaga and Katy Perry, to rappers Wiz Khalifa and Lupe Fiasco, the diverse scope of artists that love Mercury is huge.
Check out my list of the artists that have been greatly inspired by the great Freddie Mercury.
Matt Bellamy: "The best band in the world is Queen, definitely."
David Bowie: "Of all the more theatrical performers, Freddie took it further than the rest. He took it over the edge. And of course i always admire a man who wears tights!"
Wiz Khalifa: "I jumped up in the air and landed on my knees and made my back touch the ground, it looked awesome, like some Freddie Mercury shit."
Adam Lambert: "Freddie's voice has so much texture to it. It's super sexy. He kind of grabs at everything, he squeezes it. He was completely over the top in the best possible way."
Kurt Cobain: "I used to take a nap in the van and listen to Queen. Over and over again and drain the battery on the van. Then we'd be stuck. That happened a few times. Wé'd be stuck with a dead battery because i'd listened to Queen too much."
Lupe Fiasco: "I have an understanding of Queen and the way Freddie Mercury did his harmonies."
Psy: "My lifetime role model and hero is Freddie Mercury of Queen."
Twin Atlantic: "The most influential artist of the past 25 years is Queen's Freddie Mercury."
Lady Gaga: "I adored Freddie Mercury and Queen had a hit called 'Radio Gaga'. That's why i love the name. Freddie was unique - one of the biggest personalities in the whole of pop music. He was not only a singer but also a fantastic performer, a man of the theatre and someone who constantly transformed himself. In short: a genius."
Dave Grohl: "Every band should study Queen at Live Aid. I consider Freddie Mercury the greatest frontman of all time. You'd imagine that Freddie was more than human, but you know how he contrrolled Wembley Stadium at Live Aid in 1985? He stood up there and did his vocal warm ups with the audience. Something that intimate, where they realize, 'Oh yeah, he's just a fucking dude."