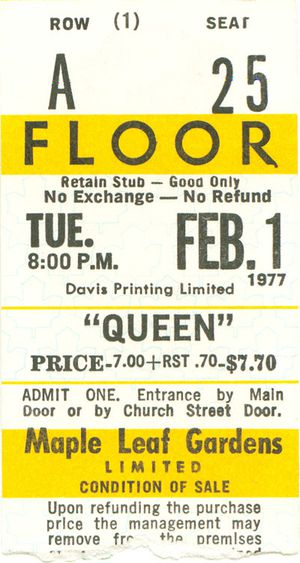 1969 : Art live au Village Hall de Kibworth, Royaume-Uni.
1970 : Brian et le professeur Ken Leay se rendent à Testa Grigia en suisse pour etudié le rayonnement zodiacal.
1976 : Queen live on A Night At The Opera Tour. Deuxième spectacle au Tower Theater de Philadelphie, USA.
1977 : Queen live on A Day At The Races Tour au Maple Leaf Gardens de Toronto, Canada.
1978 : Queen mis fin à leur coopération avec le gestionnaire John Reid. L'accord de départ a été signé dans la Rolls Royce de Freddie Mercury pendant une pause lors du tournage de la vidéo We Will Rock You et Spread Your Wings dans le jardin à l'arrière de la maison de Roger dans le Surrey. Le groupe fonde Queen Productions Ltd, qui est géré par l'avocat Jim Beach.
1979 : Queen live on Jazz tou au Sporthalle de Cologne, Allemagne.
1981 : Roger acheve son premier album solo Fun In Space. La couverture a été assurée par Hypgnosis, qui est devenu célèbre grace à sa colaboration avec Pink Floyd.
1984 : Queen reçoit un Silver Award pour les ventes de Radio Ga Ga au Royaume-Uni.
1991 : Queen reçoit un Silver et un Gold Awards pour les ventes d'Innuendo au Royaume-Uni.
2003 : Roger signe la pétition du Daily Mirror contre la guerre en Irak. Ayant obtenu 172.000 signatures il aurait déclaré: «Nous ne devrions pas faire partie de cette guerre."