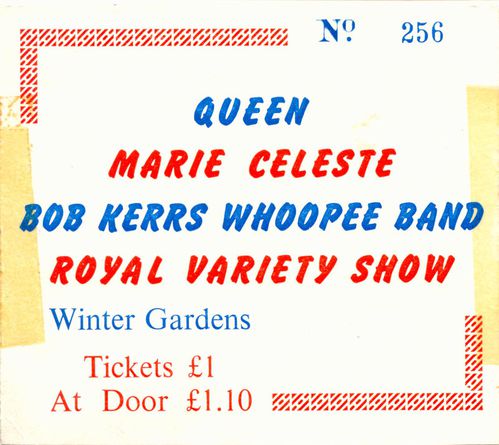 1959 : Freddie et ses camarades de classe ont formé le groupe The Hectics.
1968 : The Opposition live au Royal Oak, Wigston, Royaume-Uni.
1969 : Freddie, Brian, Roger et Tim Staffell assistent au concert deLed Zeppelin au Fishmongers Hall de Londres.
1970 : Freddie participe à une audition afin de rejoindre le groupe Sour Milk Sea.
1974 : Queen entame le Queen II Tour en jouant au Winter Gardens de Blackpool, Royaume-Uni.
1975 : Freddie assiste au concert de Led Zeppelin au Municipal Auditorium de New Orleans. Là, il rencontre Robert Plant qui lui a dit qu'il aimait Killer Queen.
1976 : Queen live on A Night At The Opera Tour à l'Auditorium de Milwaukee, USA.
1977 : Queen live on A Day At The Races Tour au Coliseum de Phoenix, USA.
1979 : Dernier spectacle de la partie européenne de la tournée Live Killers au Pavillon De Paris. Pendant le spectacle Freddie a sonné une sonnette de vélo après avoir effectué Bicycle Race. Le spectacle a été filmé pour une sortie vidéo prévu, mais qui n'est jamais sortie.
1981 : 2 ème concert de Queen au Velez Sarfield de Buenos Aires, Argentine. Le concert fut retransmis en direct en Argentine et au Brésil devant 35 millions de personnes.
1988 : The Cross live au Mayfair Suite de Southampton, Royaume-Uni.
1991 : Queen recoit un Platinum Award pour les ventes d'Innuendo sales au Royaume-Uni.
1992 : Brian enregistre une partie de guitare pour la version de Love Of My Life par le groupe Extreme.