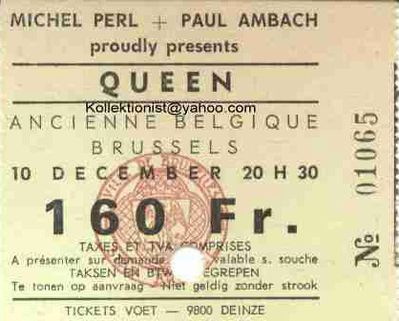 1974 : Queen live on Sheer Heart Attack Tour Premier concert en Belgique au 140 Theatre à Bruxelles.
1975 : Queen live on A Night At The Opera Tour Deuxième concert à l'Odeon de Birmingham, Royaume-Uni.
1977 : Queen live on News Of the World Tour au Convention Centre de Fort Worth, USA.
1979 : Queen live au Centre de Brighton, Royaume-Uni.
1980 : Queen live at Wembley Arena, Londres.
1993 : Brian live au Royal Court Theatre de Liverpool, Royaume-Uni.
1999 : Queen reçoit un Platinum Award pour les ventes du Greatest Hits III au Royaume-Uni.
2004 : Interview de Brian May et Roger Taylor par la journaliste Mirjam Weichselbraun sur chaîne de télévision allemande ZDF à Cologne, en Allemagne.