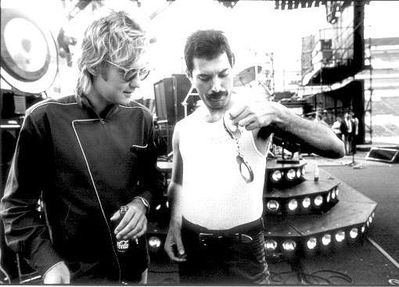 1968 : The Art live at Village Hall, Kibworth, UK.
1974 : Queen live at Uris Theatre, New York, USA,pendant le "Queen II tour".
1978 : Queen live on News Of The World Tour at Empire Pool, London, UK.
1985 : Queen live at Yogishi Swimming Pool Auditorium, Tokyo, Japan. Cette deuxième préstation est filmée par la télé Japonaise.
1986 : Queen participe au festival Golden Rose de Montreux (suisse). C'est l'une des trois seule prestations du groupe Queen en playback (la premiere 2 ans en arriere à San Remo et la suivante au festival Golden Rose de Montreux 1984). Les chansons One Vision, A Kind Of Magic, Friends Will Be Friends et Hammer To Fall, enregistrées lors du festival apparaissent sur le DVD Greatest Video Hits 2. L'enregistrement sera utilisé pour la promotion de l'album A Kind Of Magic.
1994 : Interview de Roger Taylor sur la chaine MTV (News At Night).
2004 : Brian May fait une apparition surprise pendant une représentation de la comédie musicale We Will Rock You au Dominion Theatre de Londres. Il jouera sur Bohemian Rhapsody et We Are The Champions. Tous les fonds seront reversés à la BBC Sport Relief.
2005 : Queen+PR live on Queen + Paul Rodgers Tour au Wembley Pavillion, Londres.