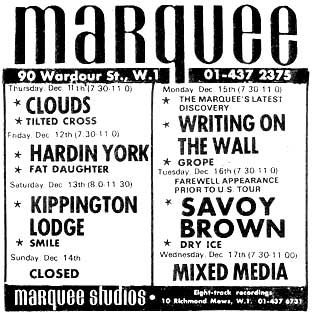 1969 : Smile live au Marquee, Londres, en première partie du groupe Kippington Lodge. La promo fut organisée par Mercury Records.
1974 : Queen live dernier concert en Europe du Sheer Heart Attack Tour au Palacio Municipal de Deportivo de Barcelone, Espagne.
1975 : Queen live on A Night At The Opera Tour au Caird Hall, Dundee, Royaume-Uni.
1978 : Queen live on Jazz Tour au Coliseum de Portland, USA.
1979 : Queen live premier concert du Crazy tour de Londres au Lyceum Ballroom.
1980 : Queen live on The Game Tour au Forest Nationale de Bruxelles, Belgique.
1983 : Naissance du quatrième enfants de Veronica et John Deacon, Joshua.
1984 : Brian et Roger sont à la première du film de David Lynch, Dune.
1986 : Le film Live In Budapest fut projeté à Budapest. Neuf projections furent présentées à guichets fermées.
1996 : Roger Taylor rejoint le SAS Band au Chiddingfold, Royaume-Uni.
1997 : Roger rejoint les Foo Fighters au Shepherds Bush Empire de Londres, ou il interprète Sheer Heart Attack.