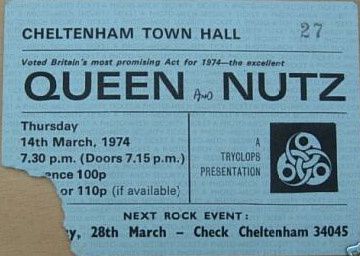 1974 : Queen live on Queen II Tour au Town Hall de Cheltenham, Royaume-Uni.
1974 : Queen participe à l'emission Top Of The Pops avec le single Seven Seas Of Rhye.
1975 : Le concert lors du Sheer Heart Attack Tour au Winter Haven Florida Citrus Showcase, USA, fut annulé en raison des problémes de gorge de Freddie Mercury.
1993 : Brian live au Beacon Theatre de New York, lors du Back To The Light tour.
2003 : Brian et Roger participent aux auditions pour la comédie musicale We Will Rock You à Melbourne(Australie).
2003 : Brian et Ben Elton sont les invités du Air Guitar Championships au the Mercury Lounge de Melbourne, Australie.
2003 : Brian est l'invité de la station Radio de Melbourne Nova FM 100.3 lors du Nova Breakfast Show team.
2006 : Queen+PR live on Queen + Paul Rodgers Tour au Wachovia Spectrum de Philadelphie, USA.