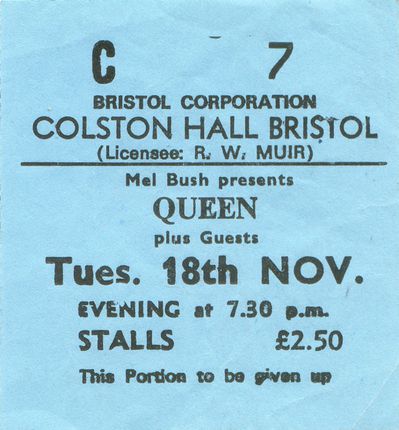 1966 : The Reaction live au Penmare Hotel de Hayle, Royaume-Uni.
1973 : Queen live au Victoria Hall de Hanley, Staffordshie, Royaume-Uni.
1974 : Queen live on Sheer Heart Attack Tour au New Theatre d'Oxford, Royaume-Uni.
1975 : Queen live on A Night At The Opera Tour au Colston Hall de Bristol, Royaume-Uni.
1975 : Queen reçoit un Gold Award pour les ventes de Sheer Heart Attack aux Etats-Unis.
1977 : Queen live on News Of The World Tour au Cobo Arena de Detroit, Etats-Unis.
1985 : Freddie sort le single Love Me Like There's No Tomorrow.
1996 : Queen sort son 46ème single You Don't Fool Me au Royaume-Uni.
2000 : Brian May et Anita Dobson se marient
2004 : Guest appearance: Roger Taylor live à Copenhague, au Danemark (Microsoft IT forum avec le SAS Band)
2005 : Queen and Paul Rodgers reçoivent un Platinum Award pour les ventes du DVD Return Of The Champions au Royaume-Uni.