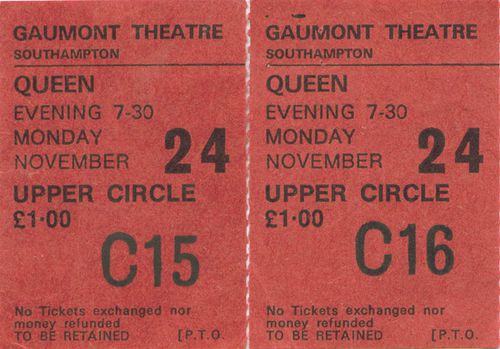 1969 : Wreckage live au Wide Deacon Grammar School For Girls, Widness, Royaume-Uni.
1975 : Queen live on A Night At The Opera Tour au Gaumont à Southampton, Royaume-Uni.
1977 : Queen live on News Of The World Tour au Civic Centre, Philadelphie, USA. Après le concert ils partent a la rencontre du dessinateur Frank Kelly Freas, auteur du dessin original utilisé pour leur pochette d'album.
1979 : Queen live on Crazy Tour au National Exhibition Centre à Birmingham, Royaume-Uni.
1980 : Queen sort le single Flash avec en face B le titre instrumental Football Fight.
1991 : Mort de Freddie Mercury.
1993 : Brian live on Back To The Light Tour au Eissporthalle, Halle, Allemagne.
1994 : Roger live au Leeds Irish Centre, Leeds, Royaume-Uni.
1997 : Interview de Brian May sur ITV's This Morning, Londres.
2001 : Brian May + Roger Taylor live à l'Ocean club de Londres, en hommage à Freddie Mercury (avec SAS Band).