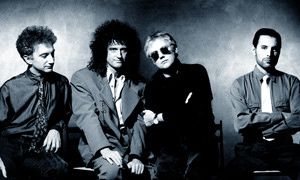 1977 : Queen live at Gaumont, Southampton, UK (A Day At The Races Tour ).
1990 : The Cross live at Docks, Hambourg, Allemagne.
1992 : Queen sort le premier album 2CD après la mort de Freddie nommé Live At Wembley '86 au Royaume-Uni. Le concert a été enregistré durant la tournée "Live Magic" au stade de Wembley le 12 Juillet 1986.
1992 : Queen sort en édition limitée le "Box Of Tricks".
1993 : Brian live at Inon Stadium, Istanbul, Turquie (Back To The Light Tour).
1994 : Roger Taylor est invité par une chaine de télé japonaise. Il interprète Foreign Sand evec Yoshiki.