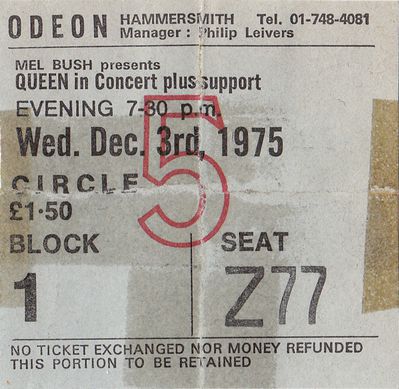 1973 : Queen enregistre Ogre Battle, Great King Rat, Modern Times Rock'n'Roll et Son And Daughter dans l'un des studios de la BBC à Langham (producteur Bernie Andrews et ingénieurs du son Mike Franks et Nick Griffiths.
1975 : Queen live à l'Hammersmith Odeon, Londres, Royaume-Uni.
1978 : Queen live on Jazz Tour au Maple Leaf Gardens de Toronto, Canada.
1979 : Queen live on Crazy Tour au City Hall de Newcastle, Royaume-Uni.
1989 : The Miracle entre à la 21ème place des charts britanniques.
1990 : Queen sort la VHS Queen At Wembley.
1991 : Brian et Roger ont été interviewés pour la première fois après la mort de Freddie sur AM TV Royaume-Uni
1993 : Brian live au Royal Albert Hall, Londres, Royaume-Uni.
1994 : Roger live on Happiness tour à Manchester University (Debating Hall), Royaume-Uni.
2004 : Queen reçoit un Silver Award pour les ventes du DVD Queen On Fire - Live At The Bowl au Royaume-Uni.
2006 : Brian et Roger sont à l'ouverture de la comédie musicale We Will Rock You au Théâtre 11 de Zurich, en Allemagne.