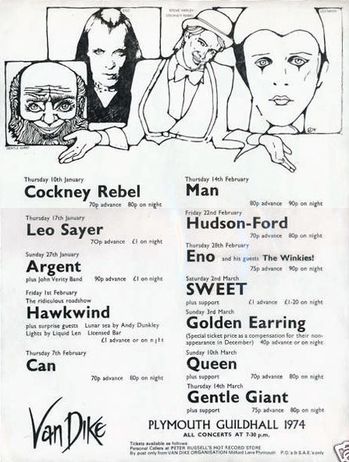 1957 : Roger déménage de Kings Lynn dans le Norfolk pour Truro.
1967 : The Reaction live on 'Rank-Bush Murphy Dance' au Flamingo Ballroom de Redruth, Royaume-Uni.
1974 : Queen live on Queen II Tour au Guildhall de Plymouth, Royaume-Uni. la foule a chante "God Save The Queen" en attendant l'arrivée du groupe sur scène.
1976 : Queen live on A Night At The Opera Tour au St. Paul's Auditorium de Minneapolis, USA.
1977 : Queen live premier de deux concerts lors du A Day At The Races Tour au Forum d'Inglewood de Los Angeles, USA. Groucho Marx les a tous invités pour le thé. Le groupe lui a remis une veste à l'éffigie de la tournée et un disque d'or. Ils ont chanté pour lui et '39, en retour, il a chanté certaines de ses chansons pour eux.
1987 : Le single The Great Pretender entre à la 9ème place des charts britanniques.
1996 : Too Much Love Will Kill de l'album Made In Heaven entre à la 18 ème place des charts britanniques.
2000 : Brian et Roger participent aux Brit Awards et interprètent We Will Rock You avec le groupe Five (en playback).
2006 : Queen+PR live on Queen + Paul Rodgers Tour à l'American Airlines Arena de Miami, USA.