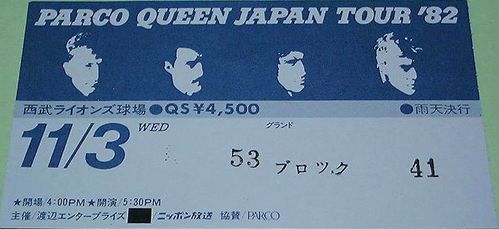 1974 : Queen live on Sheer Heart Attack Tour au Theatre de Coventry, Royaume-Uni.
1978 : Queen live on Jazz Tour au Sportorium de Miami, USA.
1982 : Dernier concert de Queen (Hot Space Tour) au stade Seibu Lions de Tokorozawa, Japon. Ce concert en plein air fut filmé pour une sortie en vidéo exclusivement au Japon et fut le premier concert de Queen sortie en vidéo
(à l'exception du Greatest Flix avec des séquences de We Will Rock de 1981 sortie en 1984) et le seul avec Teo Torriatte et Put Out The Fire revisitée. Une partie de ce spectacle a également été diffusé en tant que bonus sur le DVD Queen On Fire.
1992 : Brian live on Back To The Light Tour avec la participation de Joe Cocker et B52 au stade Pista Atletica , de Santiago du Chili. Il y à eu beaucoup de problèmes techniques lors du concert en raison de pertes de puissance du reseau électrique chilien.
1994 : Brian fait parti d'un groupe de "chasseurs d'eclipses". Ils démarrent leur périple de l'hotel Arica (Chili) vers les Andes à une altitude de altitude de 4,500 metres, pour observer l'eclipse solaire.
1997 : Queen sort la compilation "Queen Rocks" au Royaume-Uni. Brian et Roger ont participé à une conférence de presse à Hambourg et à Cologne pour promouvoir l'album.
1998 : Brian live on Another World Tour au The Glasgow Royal Concert Hall de Glasgow, Ecosse.
2000 : Freddie Mercury reçoit un Silver Award pour les ventes de Mr. Bad Guy au Royaume-Uni.
2003 : Brian and Roger participent à la premiere de la comédie musicale We Will Rock You au Calderon Theatre de Madrid . Ana Botella, ministre des Affaires sociales de la Mairie de Madrid, est également arrivée au théâtre et pose avec les membres de Queen, Ben Elton et Jim Beach pour une photo souvenir.
2003 : Queen sort le Greatest Video Hits 2 en DVD au Royaume-Uni. Une vidéo promo montre Brian et Roger en vendeurs dans un vidéo club!.
2005 : Queen+PR live on Queen + Paul Rodgers Tour au dome de Fukuoka, Japon.