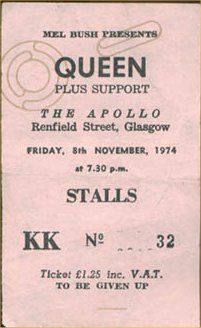 1974 : Queen live on Sheer Heart Attack Tour à l'Apollo Theatre de Glasgow, Ecosse.
1993 : Brian live on Back To The Light Tour au Kosei Nenkin Hall d'Osaka, Japon.
1999 : Roger joue avec le SAS Band lors d'une fête organisée par la team McLaren F,1en Allemagne.
2008 : Queen+PR live on The Cosmos Rocks Tour au Wembley Arena de Londres.