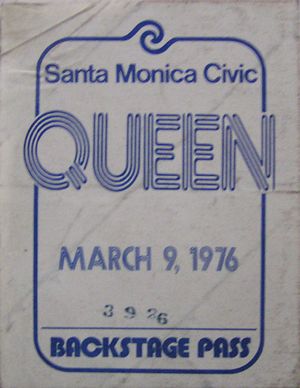 1973 : EMI débute les négociation avec Trident pour un nouveau contrat d'enregistrement pour Queen.
1974 : Queen live on Queen II Tour au Corn Exchange de Cambridge, Royaume-Uni.
1975 : Queen live on Sheer Heart Attack Tour au Kiel Auditorium de St. Louis, USA.
1976 : Queen live on A Night At The Opera Tour concert l'après-midi et en soirée au Santa Monica Civic Auditorium de Los Angeles, USA.
1976 : Queen reçoit un Gold Award pour les ventes de A Night At The Opera sales aux USA.
1977 : Le concert du Selland Arena, Fresno, Etats-Unis, fut annulée en raison de problèmes de gorge persistants de Freddie(A Day At The Races Tour).
1988 : The Cross live au Civic Hall de Guildford, Royaume-Uni.
1993 : Brian live au Civic Centre de Hartford, USA, lors du Back To The Light tour.
1997 :Brian s'est rendu en Mongolie pour assister à une l'éclipse solaire.
2006 : Queen+PR live on Queen + Paul Rodgers Tour au MCI Center de Washington, USA.