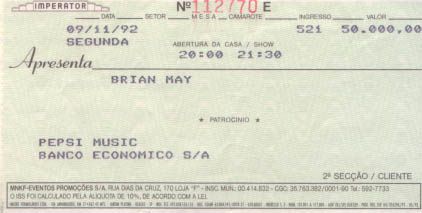 1974 : Queen live on Sheer Heart Attack Tour à Université de Lancaster, Royaume-Uni.
1978 : Premier des deux concerts de Queen lors du Jazz Tour au Cobo Arena de Detroit, USA.
1986 : Brian participe avec le groupe Iron Maiden, Jimmy Page et le groupe Bad News à une levée de fonds pour le NSPCC (Société nationale pour la prévention de la cruauté aux enfants (NSPCC) est a LE R-U charité faisant campagne et travaillant dans la protection d'enfant et la prévention de la cruauté à, et abus de, enfants) à l'Hammersmith Odeon, Londres.
1992 : Brian live à l'Imperator Club de Rio De Janeiro, Bresil.
1992 : Brian sort son quatrième single solo Back To The Light.
2009 : Brian May et Roger Taylor sont les invités de la troupe We Will Rock You, au Playhouse Theatre d'Edinburgh, Royaume-Uni.