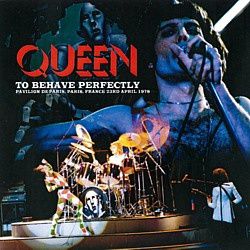 Première nuit à Paris (1978) lors de la tournée mondiale News Of The World. Cette version vient d'un label appelé bootleg''''Uxbridge. La qualité sonore est très agréable sur la plupart des titres, mais il ya une légère distorsion par endroits. Ce bootleg a reçu un traitement de réduction du souffle, donc aucun bruit de fond.
Le solo de guitare de Keep Yourself Alive à été légèrement amputé, mais à part ca, le concert est complet.
A noter une supèrbe version de My Melancholy Blues.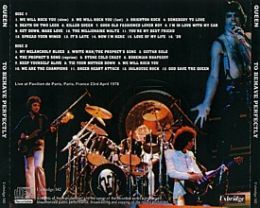 CD 1
01. We Will Rock You (Slow) 02. We Will Rock You (Fast)03. Brighton Rock 04. Somebody To Love
05. Death On Two Legs 06. Killer Queen 07. Good Old Fashioned Lover Boy 08. I'm In Love With My Car
09. Get Down Make Love 10. The Millionaire Waltz 11. You're My Best Friend12. Spread Your Wings 13. It's Late 14. Now I'm Here 15. Love Of My Life 16. '39
CD 2
01. My Melancholy Blues02. White Man/The Prophet's Song 03. Guitar Solo 04. The Prophet's Song (Reprise)
05. Stone Cold Crazy 06. Bohemian Rhapsody 07. Keep Yourself Alive 08. Tie Your Mother Down 09. We Will Rock You 10. We Are The Champions 11. Sheer Heart Attack 12. Jailhouse Rock 13. God Save The Queen