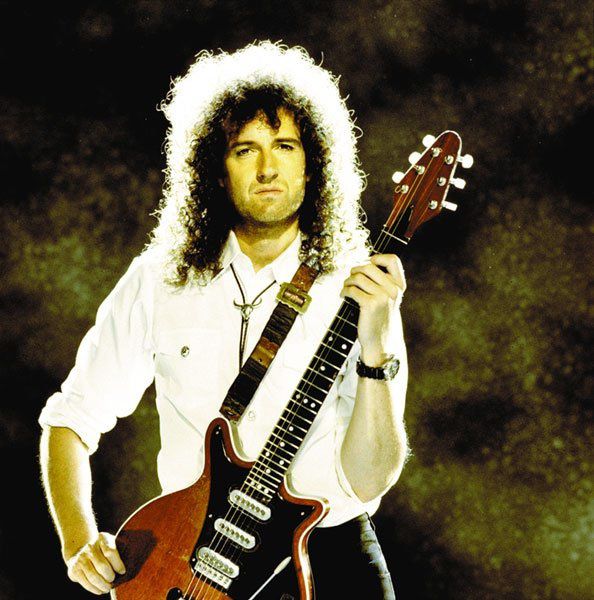 En septembre 2003, Brian May apparait à la 39e position du classement des cent meilleurs guitaristes de tous les temps, établi par le magazine musical Rolling Stone.
En Janvier 2007 le magazine Guitar World inclut deux solos de Brian May dans le Top 100 des meilleurs solos de Guitare de tous les temps. (Bohemian Rhapsody et Brighton Rock respectivement à la 20e et 41e place).
May a exploré une grande gamme de styles à la guitare, comme le Sweep Picking (Was It Worth It All, Chinese Torture), le tapping (Bijou, It's Late, Resurrection, Cyborg, Rain Must Fall, Business, China Belle, I Was Born To Love You), le slide guitare (Drowse, Tie Your Mother Down), le Hendrix sounding licks (Liar, Brighton Rock), le tape-delay (Brighton Rock, White Man) et le melodic parts (Bohemian Rhapsody, Killer Queen, These Are the Days of Our Lives).
Notamment sur son solo de Brighton Rock, on peut remarquer l'effet du double retard. Le premier retard est d'environ 800 ms et le second de 1600 ms. Les trois signaux (instantané, premier retard, second retard) sont envoyés à trois amplificateurs séparés. Grâce à ce système, Brian construit des harmonies en trois parties, donnant l'impression que trois guitaristes jouent simultanément. Ceci fait de lui un des promoteurs de la guitare-orchestration, appelée ainsi en raison de l'utilisation de plusieurs guitares qui s'entendent simultanément pour un effet contrapuntique.
Avec sa guitare au son unique, Brian May est capable d'imiter beaucoup de choses comme par exemple un orchestre (Procession, Get Down Make Love). Ces effets sonores ont été si exceptionnels que beaucoup croyait à l'utilisation d'un synthétiseur, ce qui obligea le groupe à préciser le contraire. Dans Good Compagny, il imite un trombone, un piccolo et plusieurs autres instruments donnant un son jazz au morceau.
Il n'est pas en reste dans le domaine acoustique avec notamment la version live de Love of My Life.
Sa capacité n'est pas limitée à un seul instrument. Avec Queen, il joua du banjolélé (Bring Back That Leroy Brown), du Ukulele (Good Company), du piano (All Dead, All Dead, Save Me, Dear Friends) ou encore du synthétiseur (One Vision), de la harpe (Love of My Life), du koto (The Prophet's Song), de l'Harmonium (Teo Torriatte), des maracas (Who Needs You)...
May est aussi un chanteur accompli. Sa vaste gamme vocale est basse (87 Hz). De Queen à The Game, Brian May chante au moins une chanson en tant que voix principale et contribua aux chœurs de presque toutes les chansons de Queen.