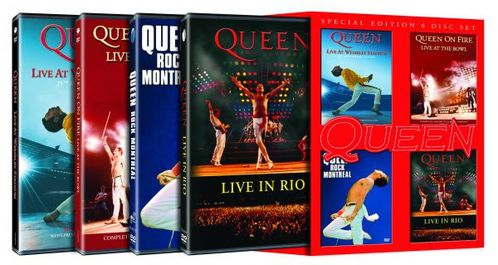 Queen Box set release.
Eagle Rock Presents A QUEEN DVD Extravaganza
SPECIAL LIMITED EDITION DVD SET
INCLUDES
LIVE AT WEMBLEY STADIUM – 25TH ANNIVERSARY EDITION
ROCK MONTREAL
LIVE IN RIO (First Time on DVD)
QUEEN ON FIRE: LIVE AT THE BOWL
~NOVEMBER 2013~
Exclusive to this package, Live In Rio features the band performing at the "Rock In Rio" festival in January 1985. Dazzling 250,000 fans, the setlist features such favorites as "Seven Seas of Rhye" and "Liar," while spotlighting 5 songs from The Works, which they were supporting at the time.
Live at Wembley Stadium – 25th Anniversary Edition was originally released as a separate DVD in the US on March 12, 2013, and features two sell-out shows at London's famed Wembley Arena in 1986. This DVD includes the bonus film "The Magic Tour," which features interviews with Brian May and Roger Taylor filmed in 2011, where the members reflect on this 1986 tour.
Queen Rock Montreal, which was filmed in 1981, was the group's only concert to be shot on 35mm full cinema format film (they were the first band to do so). Originally titled, "We Will Rock You," this film was first launched at the Cannes Film Festival in May 1983. North America followed suit in September 1984, making Queen Rock Montreal the first commercially available film of Queen in concert. This was originally released on DVD on August 3, 2007.
Queen On Fire – Live At The Bowl, which was re-issued on DVD this past May, features Queen in the midst of their 1982 "Hot Space" Tour. Plucked from over 60 sell-out concerts in the world's biggest arenas, this show includes a second disc with bonus interviews, a photo gallery, and additional performances from Tokyo and Vienna.
This set is to be released in North America and Canda ONLY.