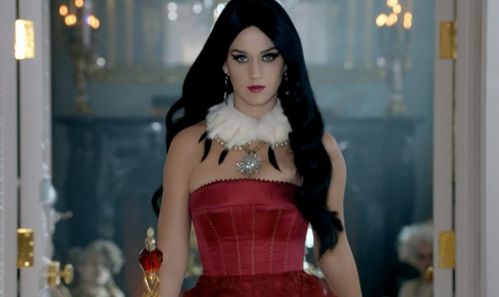 Katy Perry has hailed late Queen singer Freddie Mercury as a major influence on her recording career.
The pop singer would perform Queen's 'Don't Stop Me Now' during her 'Hello Katy' tour in 2009 and now she has revealed that another of the band's best-loved songs, 'Killer Queen', helped inspire her to get into music.
"Queen's track 'Killer Queen' made me discover music and helped me come into my own at the age of 15," she told Cosmopolitan. "The way Freddie Mercury delivered his lyrics just made me feel like a confident woman; I'd say his fingerprint is all over me in general. And I also love the idea of a woman who reigns and has power, like Queen Elizabeth in the UK."
In June of last year (2012), Perry dismissed rumours that she had been cast as Mercury's former girlfriend Mary Austin in the planned biopic of the late frontman.
On Thursday (September 5), Perry unveiled the jungle-themed video for her new single 'Roar', which is set to top the UK's Official Singles Chart tomorrow (September 8). 'Roar' is the first track to be taken from Perry's forthcoming third album 'Prism', which is due on October 22. Perry has recently released preview clips of two further tracks from the album, 'Walking On Air' and 'Dark Horse'.
Perry will play the closing night of this year's iTunes Festival at London's Roundhouse on September 30 with support from Icona Pop and Iggy Azalea. The singer got a namecheck from Josh Homme during yesterday's iTunes Festival show from Queens Of The Stone Age.
Read more at http://www.nme.com/news/katy-perry/72524#wXqF3bWsH7Dsa00Y.99