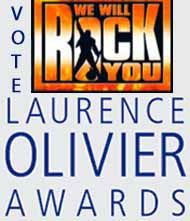 Nos amis d'Outre-manche lancent un vote pour élire la production artistique génèrent le plus d'audience. Voici l'annonce originale faite sur le site de Brian May

:

"In 2010, the Laurence Olivier Awards is creating an exciting new award, the Audience Award, giving theatregoing audiences the chance to crown their favourite long-running London show.
Until 12:00 on 1 February, you have the chance to pick the show you would like to see in the category's shortlist. Then, once the shortlist has been announced in early February, you will be able to choose from that shortlist to pick your winner. Everyone who votes will be entered into a prize draw to win a pair of money-can't-buy tickets for the star-studded Laurence Olivier Awards ceremony on 21 March.
Click HERE to nominate Queen + Ben Elton's We Will Rock You for the long-running show of 2009.
© brianmay.com"