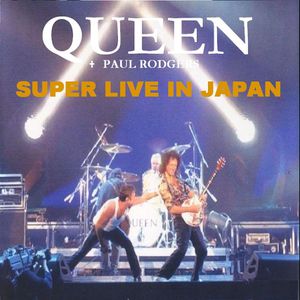 QUEEN + PAUL RODGERS - SUPER LIVE IN JAPAN
Sorti le 28 avril 2006 – EMI/ Toshiba
Format: 2 x DVD (NTSC, Region 0)

Tournée japonaise de Queen + Paul Rodgers qui avait débuté le 26 octobre 2005 et passait par Saitama Arena, Nagoya Dome et Fukuoka Yahoo Dome entre autres.

La jaquette du DVD montre le show entier du second soir au Saitama Arena le 27 octobre 2005. Après avoir joué plus de 30 concerts en Europe à partir de mars 2005, Queen et le chanteur Paul Rodgers ont continué au Japon, prouvant encore qu'ils sont 'les rois du Rock' et 'les Meilleurs Artistes sur Scène', avec un magnifique show de plus de 2 heures. Ils ont également interprété deux titres tout spécialement pour leurs fans japonais, 'Teo Torriate' et 'I Was Born To Love You'.


DISC U N
Reaching Out
Tie Your Mother Down
Fat Bottomed Girls
Another One Bites The Dust
Fire And Water
Crazy Little Thing Called Love
Say It's Not True
'39
Love Of My Life
Teo Torriatte (Let Us Cling Together)
Hammer To Fall
Feel Like Makin'love
Let There Be Drums
I'm In Love With My Car
Guitar Solo
Last Horizon
These Are The Days Of Our Lives
Radio Ga Ga
Can't Get Enough
A Kind Of Magic
Wishing Well
I Want It All
Bohemian Rhapsody
I Was Born To Love You
The Show Must Go On
All Right Now
We Will Rock You
We Are The Champions
God Save The Queen



DISC D EUX
BACKSTAGE A BUDAPEST
Documentaire derrière la scène fimé à Budapest- Hongrie, durant la tournée 2005 Queen + Paul Rodgers.
De nouvelles interviews du groupe et des techniciens de tournée, plus des images exclusives backstage.