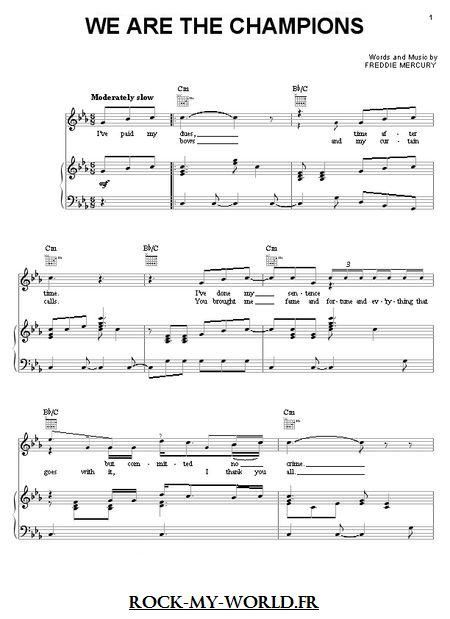 We Are the Champions est une chanson écrite par Freddie Mercury et interprétée par le groupe Queen sur l'album News of the World. Ce chant est devenu très populaire dans le monde sportif et salue notamment nombre de remise de titres. Ce chant de 2'59" figurait en face-B du morceau We Will Rock You sorti le 7 octobre 1977, titre avec lequel il s'enchaine sur l'album. Contrairement à une croyance assez répandue, elle n'a pas été écrite en 1966 même si elle fait clairement référence à la victoire de l'équipe d'Angleterre de football en coupe du monde de 1966.
Freddie Mercury expliqua que le football lui inspira l'écriture de ce texte. Il voulait en effet un chant que les fans pourraient facilement chanter. Ce but fut atteint et même dépassé quand cet hymne fut adopté par l'ensemble du monde sportif. Il salua notamment le dernier titre de champion du monde de football de l'Italie à Berlin en 2006 et la victoire de l'équipe espagnole lors de l'Euro 2008 ainsi que la victoire de la France en Coupe du Monde 1998 (avec I will survive).
La version originale de Queen a été utilisée dans plusieurs films, notamment dansLes Tronches (Revenge of the Nerds) (1984), Les Petits champions (The Mighty Ducks) (1992), Les Petits champions 2 (D2: The Mighty Ducks) (1994), The Big Tease (1999), Mickey les yeux bleus (Mickey Blue Eyes) (1999), High Fidelity (2000), Le Bon Numéro (Lucky Numbers) (2000) et Kicking and Screaming (2005). Une version de Robbie Williams, avec Queen, a été utilisée dans le film Chevalier (A Knight's Tale) en 2001.