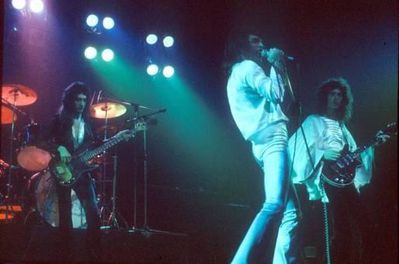 1975 : Queen s'offre les services de John Reid (manager d'Elton John) .
1982 : Interview du groupe Queen par Sue Cook pour le BBC's Weekend.Ce fut la seule et unique fois ou le groupe fut interviewer au grand complet en direct.
1990 : The Cross live at Metropol, Berlin, Allemagne.
1991 : Brian May joue en live pour une station de radio de Boston.
1997 : Brian rejoint Zucchero au Shepherds Bush Empire de Londres, ou il joue sur "Madre Dolcissima".
1998 : Brian May interprète deux chansons de son nouvel album Another World - On My Way Up et Why Don't We Try Again, pour une station de radio via une connéction RNIS (une première pour l'époque).
2004 : Brian rejoint Ian Hunter au Théatre Astoria de Londres, ou il interprète All The Way From Memphis.