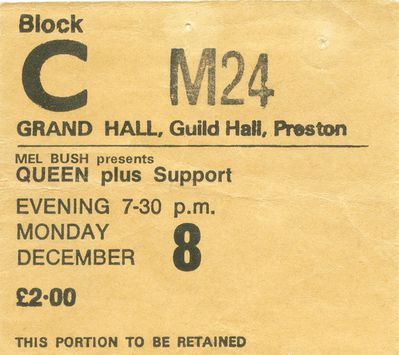 1973 : Queen live à l'Université de Liverpool, Royaume-Uni.
1974 : Queen live on Sheer Heart Attack Tour au Congres Gebouw de La Haye, Pays-Bas.
1975 : Queen live on A Night At The Opera Tour au Guildhall de Preston, Royaume-Uni.
1977 : Queen live on News Of the World Tour à Omni, Atlanta, USA.
1978 : Queen live at Kemper Arena à Kansas City, USA.
1980 : Queen live on The Game Tour au Wembley Arena, Londres.
1980 : Queen sort l'album Flash Gordon.
1993 : Brian live au The Point Theatre de Dublin, Irlande.
1994 : Roger Taylor fait deux shows lors du Happiness Tour dans les studios Europe 1 à Paris.
2006 : Guest appearance: Roger Taylor live au Bisley Pavilion, Woking, Royaume-Uni (avec le SAS Band (Jeff Scott Soto, Felix Taylor, Tony Vincent, Kiki Dee...).